Filling Hotel Management Roles With Confidence
September 21 2022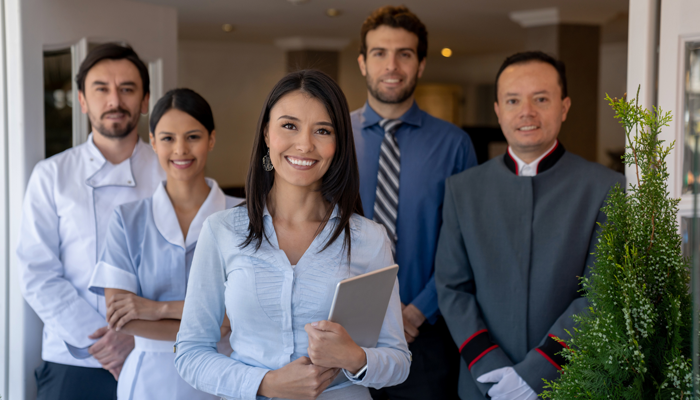 Canada's hospitality industry is showing strong signs of improvement after a challenging pandemic full of lockdowns and travel bans. Hotel management will play a key role in continuing the sector's journey back to pre-pandemic levels. Businesses would be wise to invest in these roles.
The State of Canada's Hospitality Industry
The pandemic hit the hospitality industry harder than any other sector in Canada according to a new report from Deloitte. Between 2019 and 2021, revenue in Canadian hospitality shrunk by over 15 per cent.
The good news, however, is that the sector is showing signs of recovery. This July, Canada's monthly hotel occupancy was higher than it was in July of 2019. It was only a difference of 0.3 per cent, but it was the first gain since the pandemic.
That being said, the industry still has a lot of ground to make up. The summer usually carries a spike, but there are potential gaps throughout the rest of the year. The number of corporate conferences and trade shows, for instance, is still low.
Staffing shortages are another major hurdle for the industry.
Investing in High Calibre Hotel Management
One way the sector can boost its performance is by investing in its people, specifically hotel management.
There has been much discussion surrounding the labour crunch and raising wages to attract applicants. And while businesses can recruit and retain employees with higher salaries or benefits, these can only go so far.
Dealing with challenging customers and working holidays can take its toll on employees. In addition to competitive wages, they also need good hotel management to provide leadership. A manager with strong interpersonal skills will maximize staff performance while helping to retain employees.
Further, hotel management deal with crucial business operations like:
Planning events
Budgeting
Scheduling and staffing
Problem-solving and more
Great hotel management ensures operations are running smoothly, employees are excelling, and, most importantly, guests are happy.
Hiring for Hotel Management Positions
Background checks are vital due diligence when it comes to hiring for hotel management. Bringing on the most-qualified candidates will build your foundation for future success. Here are some pre-employment screenings to consider.
Not all criminal records should disqualify a candidate, but because hotel management is in charge of employees, customers, and financials employers should be aware of any history of violence or fraud.
Likewise, since hotel management handles financials, you want to hire someone fiscally responsible. Credit check verifications provide information about a candidate's financial status, credit rating, reported bankruptcies, collections, liens, and more.
Many applicants for hotel management positions have degrees in hospitality and tourism. Education background checks will verify attendance dates, degrees and licenses obtained, and institutions attended.
A social media background check is a safe and legal way to identify red flags that aren't found using traditional background checks. They provide a more personal background check to ensure an applicant is the right cultural fit for your hotel.
Get the Information You Need Fast
When looking for talented candidates to fill hotel management roles, you need a streamlined onboarding process to avoid losing them to competitors. Triton offers background check solutions with industry-leading turnaround times. We'll help you hire with confidence and efficiency.
Interested in a demo of our solution? Call 1-855-256-8883 or visit our website to learn more.