In Alberta, Nursing Job Opportunities are in High Demand, As Well As Other Key Healthcare Roles
October 16 2023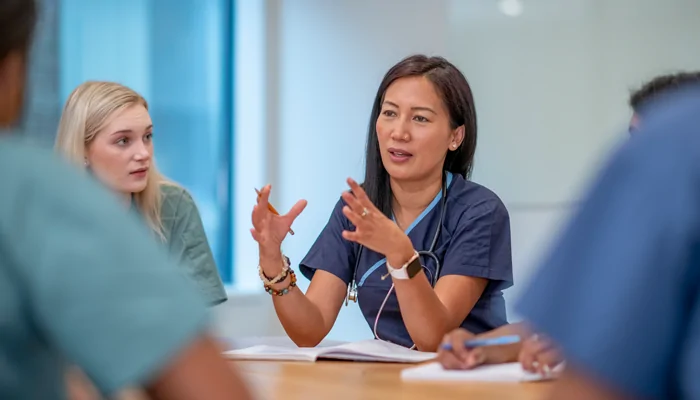 Every two years, the government releases the Alberta Occupational Outlook to predict job trends for the next decade. By 2030, a fairly stable job market is anticipated, though certain occupations might experience shortages or surpluses based on these predictions.
Curious about upcoming Alberta job opportunities on LinkedIn and Indeed? Some high-demand roles, including nursing job opportunities, in Alberta's growing industries include:
1.  Registered Nurses: Projected shortages are anticipated in the upcoming two years, particularly in rural and remote areas of Alberta. This could lead to an uneven distribution of healthcare staff across the region. These professionals play diverse roles, from community health to psychiatric care, and their scarcity could affect the health of Albertans. Currently, Alberta has around 39,000 enrolled professionals, particularly in roles such as psychiatric nurses, registered nurses, community health nurses, occupational health nurses, and infection control professionals. This clearly indicates that nursing job opportunities are on the rise in Alberta.
2.  Paramedical Occupations: Each year, Alberta faces a substantial number of healthcare emergencies, and the current number of 6,300 EMS practitioners is insufficient to meet the demand. There is a clear need for additional professionals, often referred to as "Emergency Medical Service" practitioners, who can effectively operate paramedical operations. The goal is to ensure that individuals receive timely and efficient transportation to medical facilities, thereby enabling prompt and effective treatment.
3.  Allied Primary Health Practitioners: Currently, around 1,500 dedicated practitioners play a crucial role in improving healthcare accessibility in Alberta. These professionals contribute significantly to the population's well-being, from midwives to nurse practitioners and physician assistants. These practitioners are responsible for the overall care of patients, including regular visits, testing, and routine blood work. Their emphasis on health care and educating patients ensures well-being and early problem detection. Alberta Health Services recognizes its importance and actively seeks to expand its presence to meet growing healthcare needs.
4.  Respiratory Therapists, Clinical Perfusionists, and Cardiopulmonary Technologists: These professionals are essential in helping people with respiratory and heart problems. Respiratory therapists focus on breathing issues, clinical perfusionists assist during heart surgeries, and cardiopulmonary technologists treat heart and lung conditions. With around 2,000 employed already, the demand for their expertise is on the rise.
5.  Health Information Management Occupations: Health Information Management (HIM) jobs are in high demand in Alberta, with fewer than 1,500 employed in these roles. These roles involve managing patient health records, coding diagnoses and procedures, ensuring data privacy, maintaining compliance, and supporting healthcare administration. Currently, there's a pressing need for more HIM professionals to meet the demand for accurate patient care, billing, research, and regulatory compliance.
Conclusion
In the hiring process, the last step involves performing a pre-employment screening. This practice can help you save resources and offer you a preview of what employers might see in your background check. Triton has completed 1 million checks to date, operating both nationally and internationally.
For more information about Triton background checks, visit www.tritoncanada.ca.