Press Release: Accessing Your Criminal Record Check Just Got Easier with Triton's New App
June 30 2022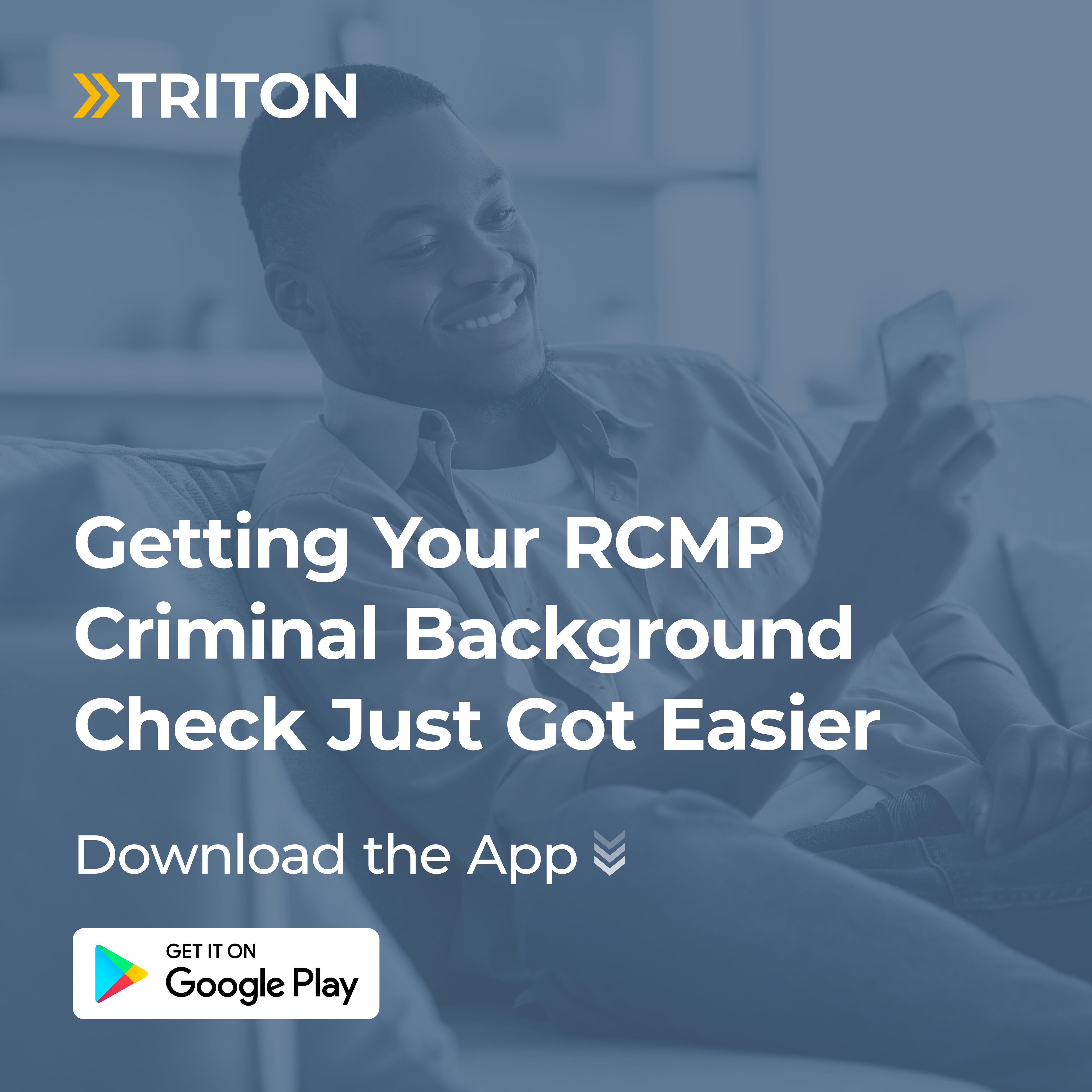 Toronto, Ontario, June 30, 2022: Triton Canada has launched a new mobile app for users to easily access their criminal record checks from anywhere, anytime.
"We wanted to be the first in the market," Marketing Manager Victoria Krstev explains. "Trailblazers."
"Currently the app is used for personal checks, which are perfect for those who need to present a clean criminal record for a new job or volunteering. It also opens the door to allow us to better serve our customers by leveraging constantly updating technology."
The app leads users through a straightforward process of entering their basic personal information, which includes their legal name, contact information, birthday, and place of birth. The user's identity is confirmed securely with built-in online verification methods, so it can all be completed through a mobile device either at home or on the go.
After paying, users will then receive their results in minutes via email, which can then be saved on their devices for easy storage. The app is free to download, and it costs $55.95 to complete the check. Users can pay with Visa, Mastercard, or American Express using Triton's secure payment methods. The app also includes a help section for users to connect with customer service through email or phone for easy access to help whenever needed.
By ensuring information is stored safely and privately, following RCMP-certified processes, working with local police services, and delivering results in industry-leading turnaround times, Triton delivers on its promises of security, accuracy, and speed. This new app continues a long company track record of technological innovation in the background check industry, including breakthroughs in artificial intelligence, automation, facial recognition, and more.
About Triton Canada:
With over a decade of experience in the industry, Triton Canada is the industry leader in pre-employment screening and criminal record checks. Since 2008, it has been Triton's mission to support individuals and organizations in this digitalized, ever-changing marketplace. Triton continues to deliver value to its customers, clients, and partners by embracing advanced, data-driven solutions.
Contact:
customerservice@tritoncanada.ca
1-855-819-4204
https://www.tritoncanada.ca