How to Resign From a Job
March 13 2023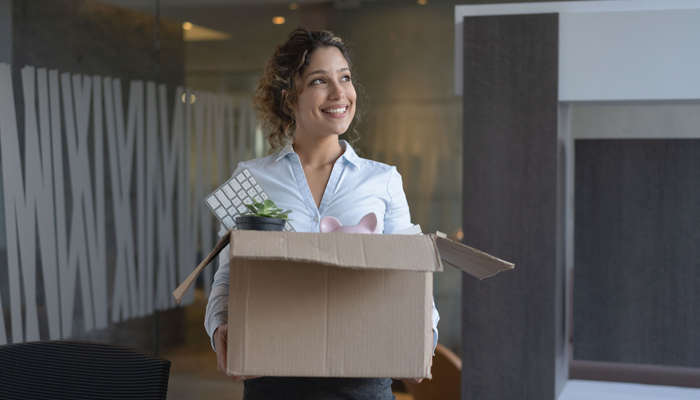 While Canada hasn't experienced the "Great Resignation" like in the US, as of August 2022, nearly 12 per cent of permanent employees were planning to leave their job within the next year. That's a 5 per cent increase from January 2022.
If you're among that 12 per cent then you're probably wondering how to resign from a job gracefully. Don't worry, resigning from a job on good terms isn't hard to do so long as you approach it the right way. Here's what you need to know.
How to Resign From a Job
For many positions, two weeks' notice is considered standard. However, according to Canadian law, this is flexible. Employees are obligated to give a "reasonable notice of termination" to an employer. This may have been specified in the employment agreement. Otherwise, the amount of notice depends on your seniority and how difficult it is for your employer to replace you.
Further, certain industries will have different practices. For instance, someone working in the financial sector may have to leave their position immediately if they're moving to a competitor. Conversely, if you're in a senior position, you may have several complex and long-term projects in progress that could take up to a month to either complete or hand off to your successor.
That's why communication is so important. To establish a reasonable notice of termination, you should reach out to your employer and begin a professional discussion around a transition plan. Offer your help in minimizing the impact on the organization. Perhaps you could participate in the onboarding process of your replacement.
It is also important to be clear. Once you and your employer have discussed a reasonable period of notice, follow this up with a written resignation letter that specifies the date of your final day of employment.
By taking the time and effort to work with your employer on your resignation, you can maintain a positive relationship, which could prove highly valuable in the future. Many professional circles are small, so it's important to maintain a strong reputation.
Be Job Market Ready
Now that you know how to resign from a job properly, it's time to get ready for the job market. Triton can help. Our online criminal background check will get you the information you need within just 15 minutes. And it comes straight to your email, so you don't even have to leave the house!
Check out our website or download the app today.